HFWAA 2015 French Woods Reunion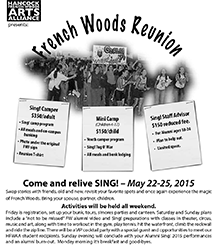 Come and relive SING! – May 22-25, 2015
Swap stories with friends, old and new, revisit your favorite spots and once again experience the magic of French Woods. Bring your spouse, partner, children.

Click here to Sign Up!
(If you do not have a campintouch account, you will need to create one)ini
Stay in touch!
At French Woods, we love to keep in touch with former campers and staff, if you are not already receiving our alumni edition newsletter, please fill out the form below to get on our mailing list.
Click here to fill out our Alumni Contact Form
Help us out !
We have recently established the Hancock French Woods Arts Alliance, a 501.c.3, not for profit corporation.
Click here to find out more information
Alumni News!
The December Issue of The Performer Newsletter (link) lists French Woods Alumni news for the past year, more frequent alumni news may be posted to our blog or our Facebook page
@
2015 French Woods Festival, All RIghts Reserved