Horseback and Equestrian program
Got a minutes? Watch this video:
Hundreds of acres of riding trails, plus indoor and outdoor riding rings provide an incredible background for our horseback riding program. We offer instruction in English and Western styles of riding and in Natural Horsemanship (Horse Whispering). Highly qualified equestrian instructors teach beginners through advanced riders, starting with lead line work for beginners and progressing to trail riding, jumping courses and dressage for days that are filled with adventure.
While riding in our indoor or outdoor arenas, or on a mountain trail, safety is paramount. Horsemanship can be a lifetime activity and emphasized at French Woods through hands on experience.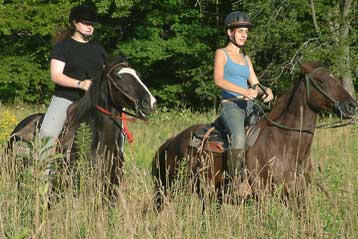 French Woods has hundreds of acres of land devoted to horseback riding trails. This allows for a rich and varied program of trail riding at all skill levels.
@
2015 French Woods Festival, All RIghts Reserved